Hello, Avid Reader of Everything Except This Newsletter Because I Never Publish. It is I, Swati, the most inconsistent newsletterer ever, and you're reading Issue #4 of The Mustard Sandwich, a munchable and highly lunchable periodical spotlighting curious food stories, busy eaters, and internet/outernet goings on.
If you just received this email and it sent you into a WTF I NEVER SUBSCRIBED TO THIS BUSTY MCLASERBUNS FOR CONGRESS TEXT THREAD tailspin, I assure you that you did (probably via Good Food Jobs), but it might have been a year ago, and I don't remember what I did yesterday, so I get you. Feel free to unsubscribe at any moment!
Also, if you like this newsletter and have feature story ideas, hit reply and let me know. Along these lines, let's talk about writing since that is what much of this issue is about.
Sigh, Writing...
In the past, I used to read a lot about writing, both as a craft and practice. The If-Then statement I used to accept about writing was: If I manufacture quietness and stillness, Then I can write.
What I have realized time and time again about writing is, If you are serious about writing, Then you must be undeterred by the goblins of self that emerge to beat you with psycho sticks and crush your confidence to a fine powder when you sit quietly with your sparkly pencil.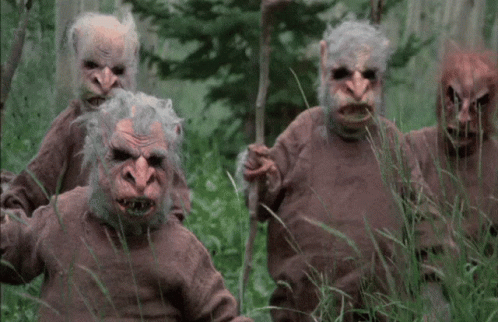 Writing is scary! Especially memoir. Real life characters you admire can express themselves as shadowy figures, and I find I have to be baseline emotionally fortified to gracefully encounter these new creepsters.
Speaking of people, this issue's feature story is about my (food) writer friend Ashlie. I put the qualifier in parentheses because she writes about so much more than food. If anything, food is merely a lens through which she gazes at what I think is her true subject: wildly unique people and their food-adjacent therapies.
I first encountered Ashlie through a cheap-but-amazing food writing seminar offered by the Carnegie Center for Literacy and Learning, an organization I highly recommend for unique and affordable classes on a wide array of genres and subjects.
In Ashlie's weekly meeting, we read and discussed impactful food stories, such as The NYT's "The Chicken and Rice Man" and The New Yorker's "Nothing Compares to Yuzu." We also brainstormed our own schticks, which eventually led me to create this newsletter.
I am a huge fan of profile pieces. Ashlie has written one of my favorite food profiles ever, This Kitchen Ain't a Men's Club, for The Bitter Southerner. In it she shadows Deb Paquette, a restaurant kitchen maverick whose most tasteful life ingredient is immeasurably being herself. What she accomplishes in the kitchen I hope to accomplish as a writer.
Now! – Here's a Q&A with Ashlie Stevens, Deputy Food Editor at Salon, where she discusses how she got started as a professional writer and shares some of what she hopes to accomplish.
Ashlie Stevens, Busy Eater & Food Media Maven
You mentioned you started working in newsrooms as a teenager. What was that like and how did it evolve as you gained experience? Was the newsroom welcoming and inclusive? What was the pace and culture like?
I think I've really lucked out in the places where I worked, honestly. I started college when I was 16 and by 17, I started interning for Louisville Magazine (and their website Louisville.com). I remember thinking at the time that the newsroom was the coolest place. There were chalkboards everywhere covered with story ideas and issue outlines, and stacks and stacks of old editions tucked under tables and in corners. It was tidy, but never painstakingly so, and as someone who likes a little good clutter, I really appreciated that vibe.
By the time I was 19, I shifted over to interning at Louisville Public Media's daily newsroom WFPL News. WFPL is our city's NPR affiliate and I really believe in the power and potential of community-supported public media. For me, that was one of the most supportive environments I've ever been in; there were a lot of smart, creative people who took me under their wing and taught me how to have fun with audio. That's one of the reasons why — after spending a few years freelancing for places like Eater, Vice, National Geographic and the Atlantic — I was honored to come back and accept a full-time position there as the arts and culture reporter.
Daily radio newsrooms are pretty quick-paced environments (there's always this "hole" you need to fill with content, including on weekends and holidays), but it taught me to keep organized and look for fun in what could otherwise be routine stories. I remember that Ira Glass of "This American Life" came to visit our newsroom to offer critiques of our work and some general words of wisdom, and he was adamant about the fact that, as a writer or storyteller, you need to find something in every story that brings you, as the creator, joy. I try to carry that with me even today.
What do people eat in a newsroom if anything at all? What was your fuel?
When working at WFPL, I was really lucky to be located in kind of a central corridor of downtown Louisville — which meant that I was really close to a lot of great restaurants. I had my favorites, of course. One of my daily non-negotiables was coffee at Nancy's Bagel Box.
I am an iced coffee year-round kinda gal and on days where I looked noticeably stressed or tired, my favorite barista would go ahead and prep me two (one for now, one for later). I'm also a sucker for a good bagel, so on days that I ate breakfasts — which I'm admittedly not great about — I would snag an everything bagel with lox and cream cheese.
On days that I didn't pack lunch, you could find me at Safier Meditteranean Deli. Youness El Mesyah, the head chef, is a master behind the grill and also made the most fantastic soups. Safier's chicken and rice soup with lime juice is still my go-to when I feel a cold coming on, though admittedly that was a much bigger deal when I worked in radio because I couldn't really afford to lose my voice. That soup plus a mango lassi? It was like medicine, I swear.
However, by far the best time to eat at that newsroom was during fund drive week. I know that listeners can get annoyed by the monotonous pitching during public radio fund drives (believe me,  I get it — I still sometimes wake up in a cold sweat with the line, "Five dollars a month or any amount makes a difference…") but so many amazing local restaurants stepped up and kept up and volunteers fed while we worked the phones at all hours. Some stand-outs include a pizza restaurant called The Post, Mayan Cafe and The Fat Lamb.
I've worked from home since I started work at Salon a little over two years ago, which radically altered what and how I eat — especially now that I work on the food desk. You'd think that I'd be better about eating regularly, but that's not always the case. There are days that, after filing stories and navigating interviews and Zoom meetings, I look up and it's 2pm and I haven't eaten. These days, I'm trying to keep ahead of that by keeping easy-to-reheat items in my refrigerator like soups and stews. I'm also a huge fan of snack plate eating. I've joked both online and offline that if I was to write a cookbook, it would have to be called "The Snackplate Gospel."
How are newsrooms changing? What do you miss? What do you long for?
You know, it's funny — I funnel a lot of my memories through the lens of food, and one of the things that I loved about being in a physical newsroom were special occasions like work anniversaries, birthdays and award celebrations. Inevitably, cake was brought in and folks would bring in some beers and wine (and bourbon; I always kept bourbon in my big desk drawer for special occasions) and we would just take a minute to spend time together and eat. It was lovely and communal in a way that you don't necessarily get in an all-virtual working environment.
That said, my current managers are fantastic about facilitating a sense of community among our staffers, despite the fact that we are, in large part, scattered all across the country. We have big, all-staff meetings on Wednesdays and it's always fantastic to hear what the other verticals are working on.
I think one of the biggest ways newsrooms are continuing to change — and this plays into the ongoing conversation about wellness — is recognizing the mental health needs of their employees. It can't be "grind, grind, grind" all the time, which is something that the pandemic laid bare in really obvious ways. It's certainly something I'm trying to be more mindful of, both for myself and as I'm starting to work more consistently with other writers.
What is your current role and what advice or experience helped you the most to get here?
I'm currently the deputy food editor at Salon.com. I started this position in May and I can't tell you how thrilling it is to finally be working in food media full-time after wanting to do so since I was like 14 (seriously, I grew up on Ina Garten and Alton Brown, so this is a dream come true, haha).
I have one experience that comes to mind in terms of how I ended up in my current role. I had an editor at a past job who was talking about the kinds of stories we wanted to publish as a newsroom. On a big white board, she created a Venn diagram of three phrases: "Timely," "Best Quality" and "Most Local." Then she looked at me and said, "And in Ashlie's case…" and she wrote another circle on a totally separate part of the board with the label "Weird."
Initially, it stung a little bit — this editor and I only crossed over for a bit and we didn't always mesh well — but the more I've thought about it, the more I realize that my desire to tell "weird" stories was actually a strength. I've always enjoyed researching under-investigated subcultures and food histories, finding humor in day-to-day stories and taking topics that initially seem small or inconsequential and digging until you hit gold.
I'd simply encourage other writers to find their "weird." Those will be the stories that will shine in your portfolio because your interest and point of view will absolutely come through.
🥨
Ashlie Stevens
is a writer and audio journalist who covers food, spirits and culture. Her work has appeared in and on NPR's All Things Considered, Here & Now, Marketplace, Eater, Vice, National Geographic and The Atlantic. You can read and subscribe to her latest newsletter, Cooking While Sad,
here
.
Bread Holes
I'm not sure how I discovered this next person. I will say this – like the magi, the YouTube algorithm often gifts me with what I don't yet know I need. In this case, it is Mavrik Joos AKA Mav.
Mav is a YouTuber who likes "truck camping, catch and cooks, and the great outdoors." I think this clarity is what I find most alluring about Mav as a creator. He's also cute as a button. I'll risk sounding like a creep: I often lie in bed on cool nights watching Mav's videos of himself camping and cooking in his pickup truck in below freezing temps. To Mav, self-sufficiency seems to be the greatest adventure of all, and I am so impressed and downright envious of his confidence and wilderness skills.
My lifestyle couldn't be more different than Mav's. As a miniature suburbanite, my interaction with nature consists of handling organic potting soil and tomatoes in raised planter boxes I bought on Wayfair that a guy from my work assembled for me. Or watering the three fruit trees and curry plant in my backyard. I wasn't always this lame. I grew up with a naturalist father and was covered in dirt as a kid. I'm distanced from that life now though, and consider it one of my failures. I hope I wise up and answer the call to return soon, somehow.
Until then, my wilderness retreating consists of imbibing Mav videos. And he cooks too! My favorite part of each of Mav's videos is that he always visits a grocery store wherever he's slated to spend the night in his truck, and cooks up hot steamy dishes in his camper. He's very global in his tastes. Here is a video of Mav cooking tikka masala and naan in his camper...
And here is another one where he makes gourmet ramen...
I have wondered why I find Mav's videos so palliative. I think it's because they are a hopeful imitation of life. There is a parallel between this young man being caught in a blizzard, yet being safely cocooned in his warm truck, preparing and eating nourishing meals. Other than his quick and friendly interactions with grocery store checkout staff, he rarely talks to anyone else, at least on camera. Despite the smallness of his environment and everything from his cutting board to his existence as a red dot on a map, his experience feels expansive to me because there is an absence of fear of the unknown.
It is an entirely different outlook than the one deeply ingrained me as a woman with South Asian roots. I was raised to fear everything and maintain a tight locus of control, and to shield myself. While I have outgrown some of that binding, the remnants of it are still so apparent to me when juxtaposed against somebody like Mav and his lived experience as an avid outdoorsman.
As a brown woman, I appreciate Mav's openness to other cultures through his cooking. I am sure many people watch his videos to learn about camping and retrofitting trucks to make such adventures possible. I watch Mav's videos when I feel the deep need for wintering, and a radical experience in nature that sloughs off noise and forces oneness with the self.
🥪
Thank you for reading The Mustard Sandwich. If this issue swirled your ketchup or shook your pickle, please share it with friends!